Clutch, a market research firm headquartered in Washington, D.C., recently published its annual report of top developers in Poland. This year, we're proud to announce, Kamee Software House made the list! This is a significant milestone for our company, and our team is excited to see how this will help us continue to grow!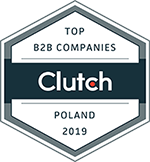 At Kamee Software House, we set ourselves apart by offering a wide range of IT services. Whether it be e-commerce development, CRM consulting, or even manufacturing execution system implementation, our team can deliver your ideal software product.
We leverage industry-leading UX/UI design, security best practices, and comprehensive testing methodologies to ensure that each product surpasses the expectations of our clients. This is true for each one of our projects.
How you might ask, did Clutch discover all of this? The team at Clutch collects in-depth, case study-like reviews of service providers to evaluate whether or not a company is a reliable business partner. In our case, Clutch analysts saw that we displayed a consistent ability to deliver. This led us to be ranked on the directory resource site.

We're also featured on Clutch's sister sites — The Manifest and Visual Objects. Functioning primarily as a research resource, The Manifest organizes business service providers based on their leadership in a given industry. We're currently highlighted on the site as a top ERP consultant.
Want to see hard evidence of our ability to deliver? Check us out on Visual Objects, a site that ranks us among other Poland firms that excel in the field of software development.

Being featured as a top provider on globally-recognized ratings and reviews platform is no small feat. Without our amazing clients, we would never have achieved this accomplishment. Thank you all for your continued support.
"First of all, we were a surprise! Second of all, we are happy and proud. Our entire team is enthusiastic about this — it is something special for us. Thank you!" – Marcin Affelski, Co-Founder, Kamee Software House
If you have any software or IT implementation needs, look no further! Our team would love to connect with you to discuss your business goals.
More articles:
How have we increased our productivity 5 times since 2014?
---