Bespoke CRM software for a language school - Warsaw, Poland
---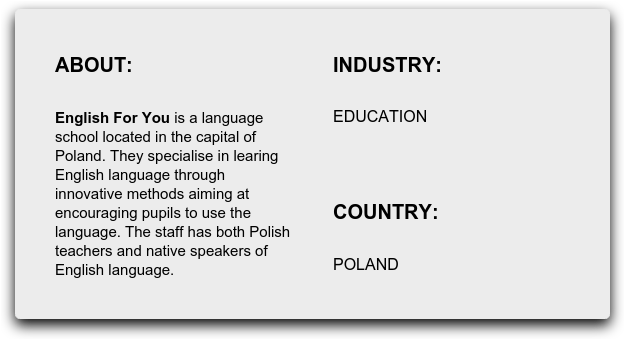 CHALLENGES



The school has centers in several locations and it was not possible to gather up-to-date data from all of those.

Difficulties in arranging schedules as the groups/rooms/times are constantly subject to change.

A time-consuming process of calculating teachers' remunerations that was dependent on students' attendance issues and sick covers.

Determining the number of lessons during the school year taking a few age groups into consideration.

Difficulties in catering for the individual groups with specific payment arrangements and unique schedules with a different number of lessons.

Lack of clear accounting statistics.

A considerable number of errors when charging customers in cases of moving students to other groups or resignations from courses.
SOLUTIONS
The user chooses the center which they want to get the required data from and the system generates it. The area the data is taken from can be changed at any time to another center or all the centers.

We have built a schedule template where the user can edit groups, rooms, hours, and weekdays using Drag & Drop method. The application allows the user to download the schedule with just one click. Drag & Drop method allows quick edition of the schedule before printing it.

The system automatically calculates the teachers' gross remuneration each month. The tailor-made software makes the remuneration conditional on the type of lessons, the students' attendance, and sick covers.

The system allows the users to create several calendars for different age groups. The CRM automatically displays the number of lessons and the price of the courses.

The system offers a lot of parameters for creating individual groups. The user can also make any changes to the groups through the whole duration of the course.

The software shows statistics for the chosen time periods. The parameters may be e.g. pending payments, unpaid/paid, paid by BACS/cash/card, outdated, canceled.

If a user clicks "Move [the student]" or "Resign [from the course]", the system calculates the amount of money the customer needs to be refunded.