Dedicated web application for group buying for entrepreneurs - SaaS/CRM/BI - Poznan, Poland
---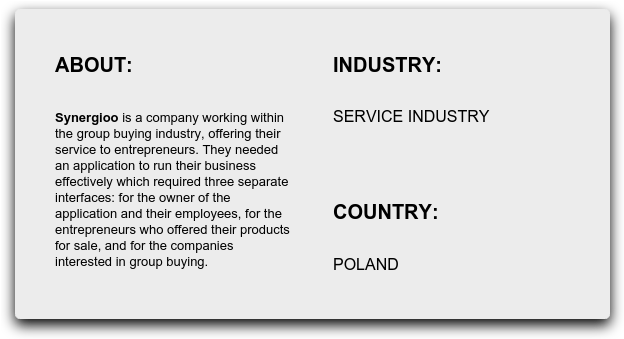 CHALLENGES
No detailed documentation of the bespoke web application that was to be developed.

The required scope of functions was not defined so it had to be worked on.

Web development covering graphics, the code, and the implementation.
SOLUTIONS


We have held a series of consultations and carried out a survey among the potential customers of the portal. The gathered data allowed us to build the business model and prepare the documentation of the application.

We have defined the scope of functions making a deep analysis of the processes that were to take place and preparing a clickable mockup.

We have built a custom graphical project featuring the company's logo. Our programmers have developed the application and it was tested by our team of professional testers. Once the software was approved, it was delivered to our client.
SCOPE OF FUNCTIONS
We have defined the below scope of functions:


management of two groups of recipients,

management of GPOs allowing the sides to liaise with each other,

management of the process of closing the leads with a commission calculator.