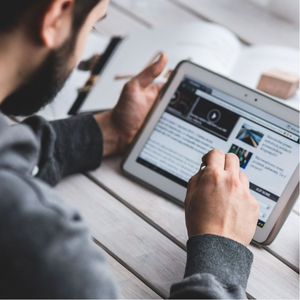 Bespoke ERP system
---
ERP (Enterprise Resource Planning) system works as a line connecting all the actions taking place in your company. It can also be compared to a key to all your data, that is usually scattered around different programs. A well-designed ERP is meant to collect, organize and interpret all the important data concerning your business processes.
We know how big an undertaking is running a business and we want to provide you with a tool that will make this a lot easier.
Choosing the right ERP software
Your ERP system can have different modules, depending on what your company needs. There are a few key functions of a well-tailored ERP that it should provide, no matter what modules you choose. A well-tailored ERP solution gives you a competitive edge over other vendors.
1. Automation of processes
A comprehensive ERP system will reduce reliance on manual processes. In this way, your employees will have more time to work on what needs their full attention. This will improve their efficiency and get you more money as a result. Using the full potential of your human resources is a key to success.
2. Enterprise analysis
An advanced ERP will give you easy tools for business analysis. You can monitor business performances quickly and easily with a user-friendly interface. With all your information stored in one place in an organized way, you can make more informed decisions. An ERP allows you to analyze trends and notice exceptions to help you decide about the future of your business.
3. Integrated CRM
A built-in CRM working inside of your ERP system offers more opportunities than a CRM operating separately. An integrated solution allows you to provide your customers with more accurate up-to-date information, therefore, offering the best customer service. Give your sales and marketing a boost with a more integrated tool.
4. Enhanced mobility
It is more and more popular to provide employees with access to the ERP on their mobile devices. In this way, they can provide real-time reports on their work and make them visible to other departments. This streamlines the processes making the work itself a more pleasant experience. Who does not like to work with sharp tools that perfectly fit the operations they were designed for?
When you know how an ERP can help you run your company, it seems obvious that you should not opt for the first available option. Such software should be carefully chosen to ensure that it really facilitates the way you work and saves you time and money.
Imagine how pleasant managing your company can be.
Modules of an ERP
Some of the most popular ERP modules are:
1. Accounting Management
With an ERP you can manage our numbers in a systemized way. It should organize information to give you a better perspective. Accounting is the basic feature of each ERP system. Financial data from each of your company's departments is stored in this module to manage it more easily.
2. HR Management
A comprehensive ERP solution helps to manage your employees more effectively. It provides tools for running payroll, time tracking and measuring employee performance and efficiency. If you get data about your employees work, you can identify arising HR issues or reward success.
3. Customer Relationship Management
An integrated CRM will ensure better customer service as it will give you more accurate information regarding anything happening within the company that may influence your customer's situation. Better customer service will improve your sales results.
4. Supply Chain Management
The supply chain is one of the most complicated processes so it's best to provide your employees with good tools for managing it. With a custom ERP, you get real-time data regarding your supplies so you can track each part of the chain and make necessary adjustments at the moment you notice a need for those.
5. Inventory Management
It is crucial to know how much stock you have. This knowledge allows you to make sure you never run out of required products and that you give your customers accurate information. Inventory management module interacts with every other module in your ERP so it's even more important that it is carefully designed.
Other modules that you may want to incorporate into your ERP solution are Sales & Marketing, Production, Material Purchasing, Distribution, Time & Attendance Management and any other you can think of.
Bespoke vs off-the-shelf ERP
Scalability

Flexibility

3rd party




integrations

Ease of




implementation

BESPOKE

***

***

***

*

OFF-THE-SHELF

*

x
x

***
| | | | | | |
| --- | --- | --- | --- | --- | --- |
| | Cost | Degree of adjustment | Time consumption | Possibility of modification | Who owns the software |
| BESPOKE | * | *** | * | *** | Client |
| OFF-THE-SHELF | ** | * | *** | * | Developer |
Why develop your ERP with us
- We begin every project with a careful analysis of the needs of all your employees as we pay proper attention to people working on all levels.
- We are available and offer support throughout the project. We are here for you, using various communication channels: face-to-face meetings, email, phone and Skype conversations, desktop sharing. The consultation stage can be as long as you need it to be. We want to discuss your project in detail so we know in which direction your system development needs to go. We offer consultations in Polish and English.
- You can have as many or as little modules as you want. It is important to establish what your company will be using. If you are not sure what modules you may need, we are happy to suggest the best scope of functions for you, based on a careful analysis of the processes in your company.
- Our team of Polish software developers consists of experienced professionals who know the business thoroughly an stay up-to-date with any changes on the market.
- Don't get stuck in a technology graveyard. At Kamee we use the most innovative technologies and look out for new options, which we like to explore and apply in our projects. The core technology we use for our software development is Ruby on Rails, valued for its great tools, wide library and high-quality code.
- Our applications are made in accordance with RWD approach, which means you can use them on any device you want and get the best user experience every time.
- We create the most functional UI design to make your work with the system as easy as it can be. To make it the as pleasant as it can be, we ensure that the UX design is also given the right amount of our time.
- At the implementation stage, we take time to train your employees properly so your new solution can be used in the most effective way. We believe that you should be taking full advantage of your bespoke system.