The market offers a lot of different business applications which aim to streamline the daily processes in a company such as gathering data or delivering customer service. Among these applications, you will also find dedicated CRM systems. Will investment in such a type of software pay off?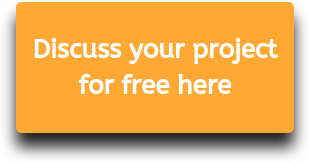 What characterizes a custom CRM system?
To be able to tell how much you can gain with a bespoke application, it is important to see how it is different from off-the-shelf software. First of all it is a guarantee of precise adjustment of the system to the needs of your business, which means the application mirrors the actual processes taking place in the company. Owing to that, it contains exactly these modules and functions that you need and that you are going to efficiently use. Canned solutions fail to guarantee that. Having a predetermined scope of functions, they require the user to adjust to the system capabilities, rather than the other way round. Moreover, off-the-shelf CRM applications do not allow further development as the needs of your company grow. Dedicated software, on the other hand, guarantees that possibility. In this way, the same system can be improved and used by the company for many years, growing together with the business. You do not have to pay for additional users as the system can be used by an unlimited number of people. Off-the-shelf systems determine the number of users within a certain license. The two types of software also differ in terms of ownership rights: bespoke applications are often fully customer-owned, while in case of canned solutions you buy a license which only allows you to use the software for a certain period. Practically, that means you can manage custom applications according to your needs and requirements. When building custom systems the developers can achieve a high degree of integration including, among others, integration with mail software or invoicing systems. Off-the-shelf applications can rarely be integrated with external systems, which may be an issue for many companies.
How much can I gain implementing dedicated CRM software?
The benefits from implementing a dedicated CRM application in a company are visible at two levels: reduction of time and money costs. As for saving time, it may be less obvious at the beginning due to the work required for the system implementation. Once this stage has been completed and providing the employees will be using the CRM application, performing daily tasks will be optimized. An intuitive system will help quickly find the required information. It will also allow changing the most successful practices into standard procedures, e.g. connected with gaining customers or within sales processes. In this way, training new employees will run more smoothly and effectively. Saving money will come from the effective management of customer relations, which will aim at increasing the number of transactions and strengthening the relationships with customers.
It is widely believed that bespoke systems are more expensive than off-the-shelf alternatives. It is true that they require a larger investment usually made as one payment or in several partial payments, however, a bespoke application will offer a greater scope of functions and a higher degree of adjustment to your needs when compared to a canned solution. Many entrepreneurs also prefer to pay only once rather than continue to pay in a subscription model that is usually applied in case of ready-made CRM systems.

More articles:
Web app implementation
Will an investment in a custom web application pay off?
Will a bespoke application improve my efficiency?

See our recent work:
Software for a manufacturing and trading company - CRM/ERP/MES/APS - Poland
Web application for course management - CRM/ERP/BI - Geneva, Switzerland
---